This fall I am finishing the "Language Surveyor Track" at the Summer Institute of Linguistics in Langley, B.C.!
For a time I have been interested in working with Wycliffe, as God's Word has had such a transformational impact on me. However I experienced the acute need when I was asked to prepare a message for an Ixil Mayan youth group. I wanted to have a youth read the scripture passages in their native language, but I had two problems: the Old Testament simply hasn't been translated yet, and I couldn't find a copy of the New Testament! As one who also speaks Spanish as a second language, I knew that even if they understood every word, much of the spiritual Truth would not be able to reach their hearts. For a message to have the most impact, it needs to be given in the people's native language- scripture included.
There are long lists of ethnic groups wanting translations, so that their congregations can better grow in faith and share the Gospel in their communities! Wycliffe has set an ambitious goal for themselves: to start a language translation project for every language that needs one by 2025. I feel incredibly blessed and privileged to have this opportunity to partner with them in this great and critically important mission.
You can read more about the linguistics program by clicking on this image:
Wycliffe enables indigenous groups to translate the scriptures into their heart-language; their native language. Did you know that there are currently 1,900 people groups without any part of the Bible? That's 180 million people who are cut off from a direct link to God's Word. 79% of the current translation programs are being facilitated by Wycliffe, the Summer Institute of Linguistics, or other partner organizations. Click on the link below to for more information!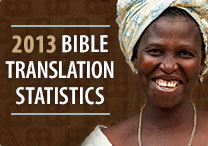 Of the total cost of $7,000 for fall semester, only $4,200 is left to raise. If you can contribute towards my expenses for fall semester, please click on this link for more information:
Thank you and God bless you!