Here you can read about the itinerary and provisions.
Alex's Destinations:
Starting Point: Issaquah, WA
Clinton, WA (on Whidbey Island, one of the San Juan Islands in the Puget Sound)
Freeland, WA (also on Whidbey)
Issaquah, WA
Spokane, WA
Coeur d'Alene, ID
Minneapolis, MN
Chicago, TN,
Boise, ID
Placerville, CA (near Sacramento)
Gresham, OR (near Portland)
Lacey, WA (near Olympia)
Tacoma, WA (near Seattle)
Issaquah, WA
Tourist Destinations:
Redwood Forest (California)
Mt. Rushmore (South Dakota)
Crazy Horse (South Dakota)
The Badlands (South Dakota)
Devil's Tower (Wyoming)
Please provide sight-seeing suggestions for the following states!
North Dakota
Montana
Minnesota
Indiana
Iowa
Wyoming
Utah
Idaho
Nevada
Oregon
Total miles: roughly 5,500
Total driving time: roughly 90 hours
Number of states seen: 11-14
Start Date: 22 October 2012
End Date: 20 December 2012
Provisions:
Clothes

Many t-shirts. Some long-sleeve, others short
Nice pair of jeans
Favorite pair of jeans
Lotsa wool socks
Cotton socks
Red sweater
Two fleeces
Winter snow cap
Gloves
Mittens
Scarf
Shoes
Orange coat
Boots
Gators
Work clothes
Set of dress clothes

White shirt
Black wool plants
Blue tie
Black socks

Swimming trunks!

Tools

Caulking gun
Duct tape
Leatherman
Pocketknife
Ratchet tie-downs
Screw driver
Shovel
Utility knife
Wrench set

Food provisions

Food

Beans
Cane sugar
Case of water bottles (emergency supply)
Chocolate
Crackers
Eggs (Hard-bioled)
Fresh coffee beans
Fruit
Hot chocolate
Pasta
Rice
Salt & pepper
Starbucks Via (coffee)
Tea
Tortillas

Cooking tools

Can opener
Fork
Knife
Long-nose lighter
Mess kit
Spoon
Stove
Thermos
White fuel

Miscellaneous

Absentee ballots and voter's guides
Bungee cord
Desanitizing wipes
Extra headlight lamp
Extra piece of foam
First-aid kits
Flashlight
Give-a-way Bibles
Hand sanitizer
Key duplicates
Kleenex
Lens cleaner
Mini-tripod
Paper towels
Pen and pencils
Plastic bags
Printed state maps
Snowshoes
Sunglasses
Tarp
Toiletries
Towels
Tripod
Twine
Water bottle
Weatherproof matches

Books:

Bilingual Bible
Getting funded
Journal
Ruthless trust

Vehicle operation

Antifreeze
Emergency flares
Ice scrapper & snow brush combo
Jumper cables
Motor Oil
Tire chains
Tire wedges (two pieces of firewood lol)
Vehicle user's manual
Window defogger

Sleeping provisions

Cotton comforter
Earplugs
Mattress
Sleeping bag
Velcro drapes for canopy
Wool blanket

Electronics (never left in car unattended!)

Alarm clock
Battery charger
Canon SLR camera
Extra batteries
GPS
Headphones
Laptop
Miscellaneous cards not fitting in my wallet
Music CDs
Pont-and-shoot camera
Rechargeable batteries
USB drive
Wireless mouse

For delivery:

Art supplies
Empty CD cases
Old clunker laptop
Special license plate
The Vehicle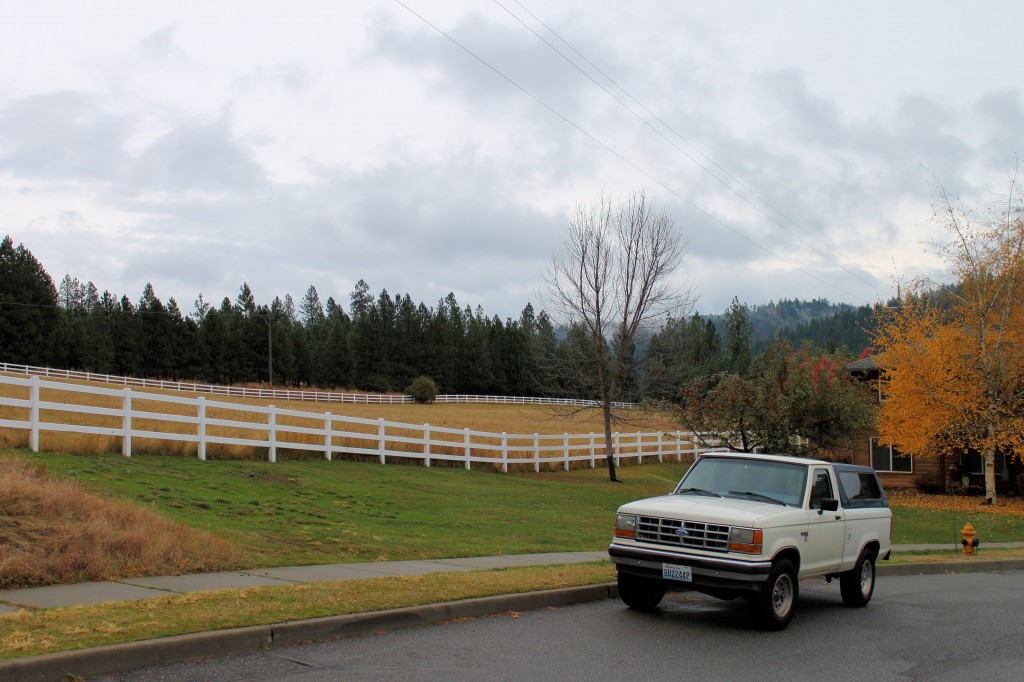 Route Rough Draft
The Departure